!-PRZ Sports Turf Consulting, Design, Assessments and Seminars.-->

PRZ (Prescription Root Zone) International Sports Turf Consulting is a multifaceted company involved in the many components in the production of fine athletic fields. PRZ's focus targets the explosion of athletic field use and the many types of new sports being played on them. Excessive play is forcing us to find new, innovative approaches in building turf that will withstand the increasing user demands. Please review our assessment services.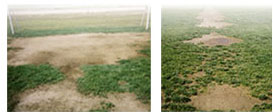 Soccer is growing 60% faster than the population and has proven the common specifications for athletic field design will no longer resist the effects of heavy wear.